On this sunny, chilly Thursday, I'm linking up with Sydney of
The Daybook
who, each week, hosts
Awkward and Awesome Thursday.
If you haven't checked out
The Daybook
yet, take a gander on over. Sydney is funny, too cute, and has serious fashion sense (best wardrobe I've ever seen on a student, yo.)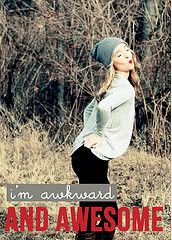 Awkward:
*My obsession with watching the trainwreck that is Teen Mom 2.
*Walking around the store yesterday, not realizing that my spanx were causing my pants to slide down and I was inadvertantly exposing said spanx to the store as I was bending over. Woot.
*My hair that is overdue for a trim/style/color.
Awesome:
*Conferences with the teachers when they tell you that your kids rock the hizzy
*Getting emailed love notes from your kids, signed with tons of 'xoxoxox'