I won! I am a winner! Winner winner, chicken dinner, baby!!!!
Recently, April at Funky Vintage Lovely was giving away a $25 giftcard for
Bonhomie Jewelry. And you're looking at the winner! I am pretty sure I want the 'sweetheart charm', but I need to look at all her stuff again. Because I like a lot of the custom charm necklaces. Decisions, decisions!!!! I am also pretty certain I want a necklace from Funky Vintage Lovely. I just need to decide -- a flower (grey mum? turquoise peony?) or a LaLaLovely necklace. Hrm.....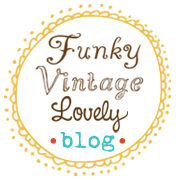 Today I had my style consult with, ahem, my stylist. Ok. So she's not mine. But she was mine for 90 minutes. And I will certainly use her again! She was won-der-ful. And very, very insightful. With my permission, she purged the pieces that needed to go. And then she put together some outfits for me, honing in on spring/summer tops and how to layer them for this weather and also pieces I wasn't sure what to do with. I now feel more confident about my wardrobe and I also feel like its much more versatile. I am so happy I did this!!! Now I just need to replace a few things...nothing too pricey, thankfully. Just some capris mostly and a pair of khakis. And of course, there's the yearly replacement of the white tees and some of the ribbed tanks. Its all good.